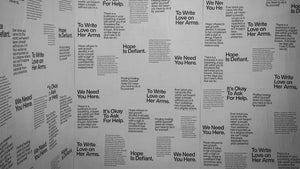 Freqently Asked Questions:
Our email address is merch@twloha.com. However, you may be able to find a more immediate answers for International Orders, General Shipping, and Returns and Exchanges on our Policies page.
Often, we hear the question, "Why T-shirts?" In the beginning, before TWLOHA was even a non-profit, there was only one shirt, and it served the purpose of helping to pay for one person's treatment. In early 2006, there was no plan to start an organization or create a movement. But as TWLOHA began to grow, we continued to use merchandise as a way to fund this work. 
But the shirts, hoodies, bracelets, and hats aren't only about long-term financial support for the organization. Every piece of merchandise has a much bigger purpose. They're a conversation starter. They're something that ties supporters together as a community. They spread the TWLOHA message to someone who might not have found otherwise.
We're on a mission to change the culture surrounding mental health and to connect people to affordable, professional resources. One of the ways we accomplish this is through our merchandise. Making a purchase through the Online Store is a way for you to get involved in sharing hope and help. 
Most products on the store feature sizing charts in their descriptions. If you find a product that doesn't have a sizing chart and would like to know how the sizes run, please reach out to us at merch@twloha.com.
Please contact us at merch@twloha.com! You will not have to pay to return orders that arrive incorrect or incomplete, and we will make sure that your order is fixed. For other returns/exchanges, check out our returns and exchanges policy.
Most orders will ship within 2-3 business days. We do our best to ensure that orders are fulfilled and shipped as quickly as possible. However, shipping and delivery dates are not guaranteed.
We are not responsible for any shipping delays once your package leaves our warehouse.
We do! We accept orders from almost anywhere in the world. All orders ship from the US, and we would highly recommend checking out our International Orders Policysection before placing your order.
Our products cannot be purchased wholesale. If you are planning a benefit, fundraiser, or would like merch for another reason, please email info@twloha.com.